Option 1: Christmas Mini Session - $149
Come for a Christmas mini session in our Langford based studio! 
Option 2: "Christmas-in-a-Box" - $299
Our "Christmas-in-the-Box" sessions are fast-paced, interactive and fun! This "Brady-Bunch" style setting means we can show off your family's personality in various poses, yet still one final photo! It's an active session where we tell the story of your family one box at a time.
And YES, it's a REAL BOX!! (But not 9 real boxes!) These sessions do take a bit of work in planning and extra work after you leave in order to put together your final masterpiece!
I have Santa hats and props, so you only need to bring your smiles!
Frequently Asked Questions
1.

How is the "Christmas-in-a-box" Session done?
This is a super fun way to experience a photo shoot! Your family will get to create 9 different images inside a big box in my studio, and then afterward I will merge them all into one photo like you see on this page! (You can choose which 9 images you want in your final box photo. These make great Christmas cards!)
With every Christmas-in-a-box" Session, you'll also get a mini session (time permitting) in front of my cozy studio backdrop.
2.

How many images will I get?
You will get 5 edited photos from a Christmas mini session. OR  You will get 1 Christmas-in-a-box photo, made up of 9 individual photos, plus up to 5 family photos (time permitting) with the Deluxe Christmas-in-a-box Session.
3.

Where is your studio?
We are located near Florence Lake, Langford. If you aren't familiar with this, it's about 5 minutes from Costco. The exact address will be given to clients upon booking.
4.

When should I arrive?
Because these sessions are back to back, please arrive right on time or a tad early, if you can. If you're late, it will cut into your time slot, not the person after you.
5.

How many people fit in the box?
Two adults and up to two or three children (depending on their size and ages) usually fit in the box. If you have more than this, we can arrange people in separate boxes interacting with each other.
6.

Can I bring my dog?
New this year we have dedicated Nov 7th for families with dogs. The set will be dog-friendly on this date, but please still let us know in advance if you are bringing a dog.
7.

What is your cancellation Policy?
Full refunds will be provided with 14 days' notice. Cancellations with less than 14 days notice will be given a 50% refund. No-shows will not be refunded.
Illness policy: Please do not come to your session if anyone in your family is sick. If you are sick, please let us know and you can reschedule at no extra cost.
8.

How many people can I bring?
These sessions are for immediate family only due to the timeframe. If you wish to have more than just your immediate family (such as grandparents or cousins), you can reserve two or more sessions back to back.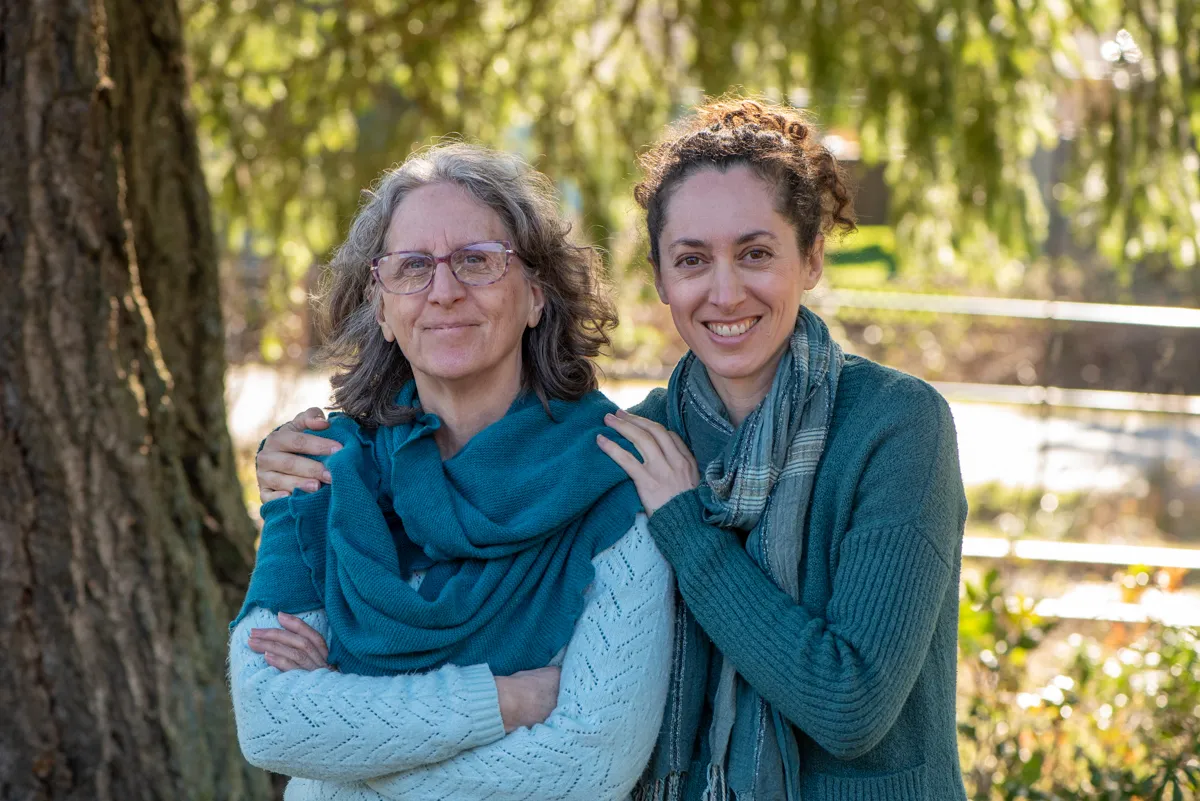 Hi! This is my mom, Elizabeth, and I. We work together in the studio to do the Christmas mini sessions each year! Join us for a fun Inside-the-box photo this year, or just a quick mini session with your family!